Online Safety
Technology in the 21st Century is seen as an essential resource to support learning and teaching, as well as playing an important role in the everyday lives of children, young people and adults. Consequently, schools need to build in the use of these technologies in order to arm our young people with the skills to access life-long learning and employment.
Information and Communications Technology covers a wide range of resources including; web- based and mobile learning. It is also important to recognise the constant and fast paced evolution of ICT within our society as a whole. Currently the internet technologies children and young people are using both inside and outside of the classroom include:
• Websites
• Learning Platforms and Virtual Learning Environments, (Moodle)
• E-mail and Instant Messaging (AET Mail, Text to Parents)
• Chat Rooms and Social Networking (Facebook)
• Blogs and Wikis
• Podcasting
• Video Broadcasting
• Music Downloading
• Gaming
• Mobile/ Smart phones with text, video and/ or web functionality
• Other mobile devices with web functionality
Whilst exciting and beneficial both in and out of the context of education, much ICT, particularly web-based resources, are not consistently policed. All users need to be aware of the range of risks associated with the use of these Internet technologies.
At Ellington, we understand the responsibility to educate our pupils on e-Safety issues; teaching them the appropriate behaviours and critical thinking skills to enable them to remain both safe and legal when using the internet and related technologies, in and beyond the context of the classroom.
Schools hold personal data on learners, staff and other people to help them conduct their day- to-day activities. Some of this information is sensitive and could be used by another person or criminal organisation to cause harm or distress to an individual. The loss of sensitive information can result in media coverage, and potentially damage the reputation of the school. This can make it more difficult for your school to use technology to benefit learners.
Everybody in the school has a shared responsibility to secure any sensitive information used in their day to day professional duties and even staff not directly involved in data handling should be made aware of the risks and threats and how to minimise them.
Online safety is an integral part of children's education in today's digital world and is embedded in their learning at school. We also want to help our parents and children improve their own understanding of online safety issues so they can learn to use the internet and all digital media in a safe and secure way.
Please view our padlet here for further resources, support and guidance.
Online Safety for Parents/Carers
At Home
As a parent/carer, you'll know how important the internet is to children - they use it to learn, play, socialise and express themselves. It's a highly creative place of amazing opportunities. But the technology children use every day can seem a bit daunting and you might worry about the risks your child can face online - such as bullying, contact from strangers or the possibility of them seeing illegal or inappropriate content. Below is some websites/advice that you will hopefully find of use and that can be shared with your child/children.
National Online Safety
Click here to access the National Online Safety website where you will find lots of information and helpful guides to support your child's online safety. Click here to access a whole range of fantastic guides and training.
The website also provides Annual Award in Online Safety for Parents & Carers of Children free of charge.
You can access the 3 - 7 year old award by clicking here and you can access the 7 - 11 year old award by clicking here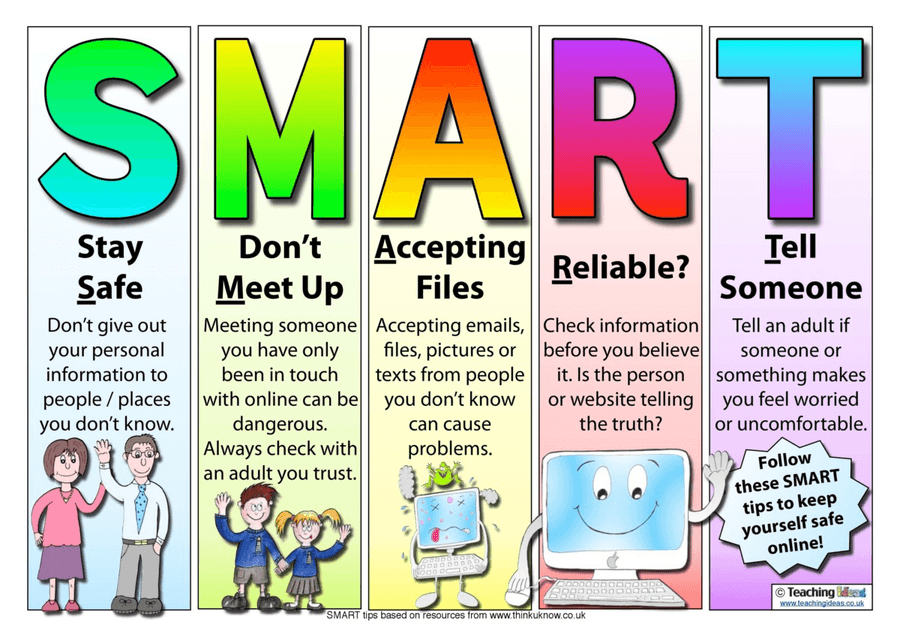 Childnet is a great website resource for parents and children on online safety. Click here

to watch an interactive video on how to keep your child safer online.
Think U Know has a great section for parents and covers topics such as gaming and talking to strangers. You can also search by topic or age range to find information that is relevant for your family. You can find the site here
Internet Matters is another great site to use - it has advice on cyberbullying, how to talk to your children about internet safety and quick guides to different types of social media such as Instagram and Snapchat. You can visit their pages here Internet Matters.
We were delighted to welcome Martin Bailey from Animate2Educate into school on October 4th to have a whole school Online Safety Day.
Martin worked with every single class in school, exploring how to keep safe online and supporting the work we do on online safety through our computing curriculum.
Martin also delivered staff training and we held a parent workshop.
The presentation from the parent workshop can be found below:
Try the following Interactive challenges to help you learn about Internet Safety:
Online safety tips for parents: